Kenney & I decided to postpone our valentine's celebration for a week due to a
Love and Respect
confrence at our church Valentine's weekend. That weekened was awesome, and really has helped strengthen our marriage, and our understanding that God created us different-not
wrong
just
different.
Kenney & I can be quite stubborn, not wanting to admit we're wrong, so we listened to the speaker's advice. "The one who deams themselves the most mature should be the one to make the first move." *snort* We did get a lot out of the conference and if you get a chance to attend one, it'd be well worth your time! We also renewed our vows in the church service on the 15th, which was very special. I know we've not even been married a full 2 years, but we still participated.
The vows were very touching, and I wanted to share them here. And yes, I cried like roughly 2 seconds into Kenneys (they went first).
Men:
The vows I made to you on our wedding day
have been tested through the years,
but I mean them more today than ever before.
Having been married to you these years have proven my belief
that you are the woman God made especially for me.
I pledge that I will love you as Christ loves His bride.
I will be Christlike in my actions, my attitude and my affections.
I take the responsibility of being the spiritual leader of our home.
I pledge to you a sacrificial love that desires your highest good,
even at the expense of my own desires.
I will love, honor and care for you as I would my own body.
I will continue to learn all I can about what pleases you,
to live with you in an understanding way.
As we grow old together, I will devote quality time to you,
keeping you as my priority.
I know that you are my precious gift from God
and I look forward to spending eternity with you.
Women
It has been my joy to be your bride through the years.
It has not always been easy,
but I also understand my vows more today than I did on our wedding day.
I pledge to follow you wherever you lead
and will be a helper that we may glorify God together.
Having watched you grow in Christ through the years,
I have the utmost respect for you, and I will continue to honor you
and have complete trust in you.
I will seek to respond to you in love as I would to my Lord Jesus.
I will comfort you, encourage you, and pray for you.
I will be submissive to you, out of my love and respect for you as a man of God.
I will make our home a place of rest and enjoyment for you.
I know that you are my precious gift from God and I look forward to spending eternity with you.

Here is our picture we got from the church from that day taken by none other than Rachel @ Savor Photography!


But for our date last Friday, Kenney & I shuffled Braydon off to school, and took Makenna to our friend Gina's house, and set off on our "date". We weighed our many choices and decided that we'd be heading off to Chuck E. Cheese, where a kid can be a kid! (Or an adult can pretend they're a kid!) We got there around 10:30, and there was hardly anyone there. We purchased 100 tokens for $12 (we had a coupon) and brought along the extra tokens and our receipts from the tickets we had from our last visit to CECs. We played skeeball (where the sensors were apparently off and in our 1st game Kenney won the "jackpot"...the lights & sirens went off and out shot roughly 100 tickets!!-not a bad way to start off our day!) After skeeball, we played the competition basketball game, where I prevailed in all but 2 games (and we played a ton!) Then we decided to roam around and play some of the other random games. I have to tell you it was a ton of fun! We got to play all these games and not have to chase after kids, change diapers, listen to whining or temper tantrums. And who doesn't get their picture "drawn" by Chuck E?!?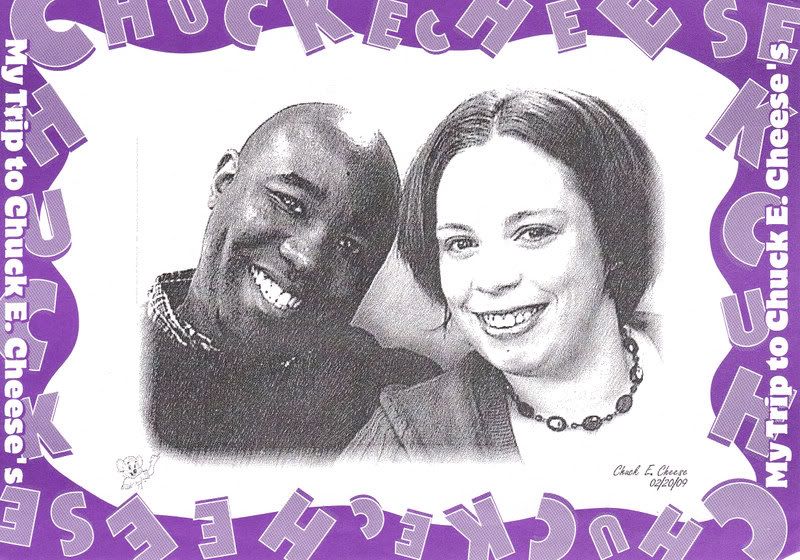 After we had our fun, we ran into a lady from our church, who promptly asked where the kiddos were. I proudly stated we were on a date & they were at the sitters!! She sighed and said that her and her hubby were due for one of "those"-she is a homeschooling Mommy to 5 kids and it appears there's another one on the way, but I dare not ask (you know the rules about never asking a woman if she is pregnant!!) We took our ticket receipts up to the front and got our kiddos 2 matching basketballs, an inflatable microphone for sissy, and a star shaped marker for Braydon. We left and headed to the Mexican restaurant we love.

The reason I love daytime dates is because a) we only have to pay for a sitter for sissy, since B's already at school. Often times, things are cheaper during the day. Most restaurants have a lunch portion that is often cheaper! Plus it's not as crowded! We had a wonderful day date, and can't wait to have more of those!!